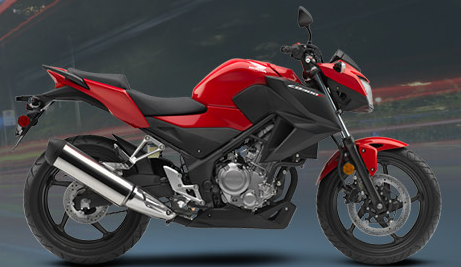 The new 2015 Honda CB300F Model is here. This Honda Motorcycle comes in a great lightweight design. It's a nimble-handling naked motorcycle that provides tons of fun to both the experienced and newbie motorcyclists. With its 300-class engine, this new motorcycle model from Honda portrays a dash of attitude as well as independence, plus extensive credibility. So, whether you are zipping around town to catch fun, or commuting from place to place, the roomy ergonomics and the power-band of the Honda CB300F is designed to make each and every ride a fun ride.
Features of the CB300F Honda Motorcycle
Lightweight, Narrow and Low
The single-cylinder heart of this fun-filled motorcycle makes it narrow and nimble. And, with the seat measuring 30.7-inch in height, this bike is low and feels light since it weighs only 348-pounds. Together these promote easy ride and handling.
Great Fuel Efficiency
The CB300F Honda bike is highly rated in terms of fuel economy. Its fuel efficiency rating is approximately 71 miles per gallon. It is also a passenger-capable bike, and of course freeway legal. It is a complete package of style combined with fun and economy.
Single Cylinder Engine
The single-cylinder engine alongside fuel injection, plus a counter-balancer and double-overhead cams that come with the 2015 Honda CB300F provide a good number of real benefits. One of such great benefits is power delivery: the torque and midrange power that the single offers is suitable for all levels of riders.
Counterbalance Shaft
The CB300F Honda bike's counter-balancer feature makes the bike a smooth runner. You are simply combining narrow overall width as well as power benefits of a single with the feel & effortlessness of a multi-cylinder motorcycle.
Disc Brakes
This stylish Honda bike comes with front and rear hydraulic discs, enabling excellent stopping power as well as great feel. You can be sure that stopping will be simple, plus un-sprung weight is kept lower with the front 296 mm hydraulic disc and the 220mm rear hydraulic disk.
Under-Seat Storage
The under-seat storage is excellent with capacity for items such as gloves, map, and sunglasses inside a lockable area simply be lifting the rear passenger seat.
Separate Passenger Seat
Speaking of…The Honda CB300F is passenger ready with the separate passenger seat feature. That's not all, the bike also includes standard passenger foot-pegs and an integrated grab rail, giving you the opportunity to ride with your partner – yet another feature that confirms the CB300F's versatility.
Features
Other innovative features of the CB300F include full LCD digital meter (multi-function), state-of-the-art exhaust system for enhanced performance and appearance. Also, the seat and side covers have been specially configured to promote easier reach to the ground.
Affordable
At $3999 retail, the 2015 Honda CB300F model is downright affordable, considering the tons of innovative features that have been loaded into this stylish bike. To crown it all, the bike comes with transferable 1-year limited warranty, plus unlimited mileage. And, the Honda Protection Plan provides extended coverage.
Bottom Line
The 2015 Honda CB300F is a great starter bike, urban commuter, or simply for someone that wants an affordable, economical, fun to drive street bike.