MUST-RIDE AMERICAN ROADS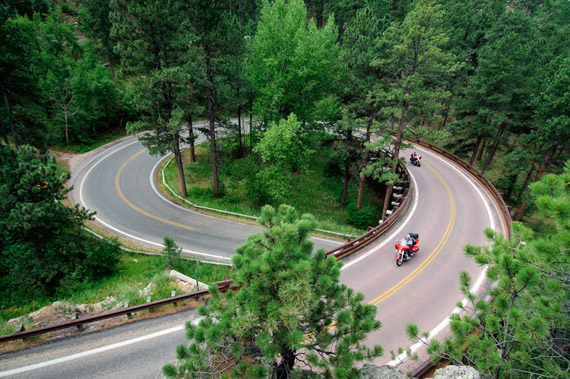 Freedom—it's why we ride! From the feeling of flying across vast prairie vistas to the exhilaration of leaning the bike into mountain twisties, the landscape of our great country has given us some amazing rides.
Here at CycleSoup.com we've chosen some of the best places in the good ol' U.S. of A. to take your bike for a spin. Whether you like wide-open horizons, azure oceans or winding mountain passes, our list has you covered.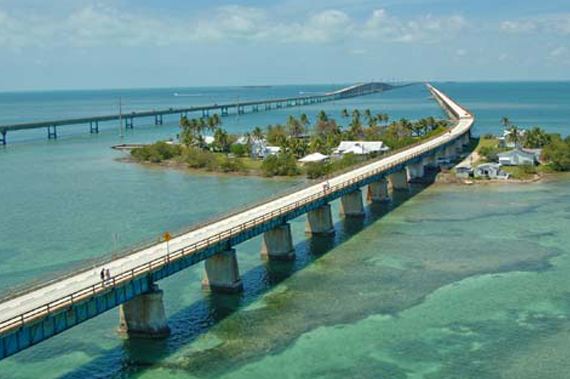 US 1 Down the Florida Keys – Originally built as Flagler's Oversees Railroad from Miami to Key West, this southernmost section of U.S. 1 runs atop old sections of the railroad as well as spanning new bridges that give breathtaking vistas of the Atlantic Ocean on one side and the Gulf of Mexico on the other. With azure blue waters, hoards of mom-and-pop eateries, tropical sun and Key West at the end of the road, this stretch of asphalt will make you think you're in the Caribbean. Make sure to allow a little time for a detour to the No Name Pub on No Name Key; it's tricky to find, but worth the ride.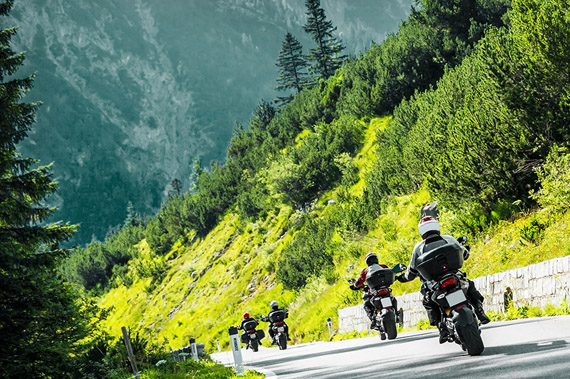 West Virginia's George Washington Highway – If you like twists and turns (and what motorcyclists doesn't) then West Virginia's Route 50—otherwise known as the George Washington Highway—delivers on all counts. Mountains, rivers, and scads of gorgeous scenery through the Monongahela National Forest make this ride especially beautiful. As an added bonus, once you've finished this adventure you're perfectly poised for two more: Skyline Drive and The Blue Ridge Parkway!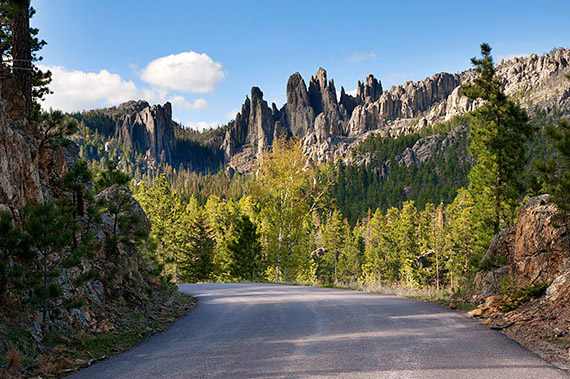 South Dakota's Needles Highway and Iron Mountain Road – Situated in the heart of the Black Hills, South Dakota's Needles Highway demands to be experienced on a bike. The scenery is stunning, with the highway passing through two tunnels blasted through sheer granite walls: Iron Creek Tunnel and Needles Eye Tunnel, and wildlife abounds, from bison to mountain goats to deer. Iron Mountain Road climbs 17 miles from Custer State Park to the entrance of Mount Rushmore National Memorial, and on it you'll wind over stacked loops of wooden bridges and through one-lane tunnels that perfectly frame Mount Rushmore.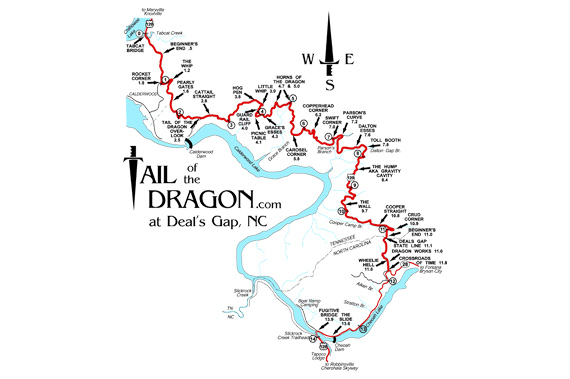 The Tail of the Dragon and Deal's Gap – It takes quite a bit of confidence to claim to be America's number one motorcycle and sports car road, as the website for Tail of the Dragon does, but with 318 curves in 11 miles, who can argue that North Carolina's Tail of the Dragon bordering the southeast portion of the Great Smokey Mountains National Park is both spectacular and challenging. Keep your wits about you as you ride these twisties and avoid the "Tree of Shame," a monument to the unfortunate souls who have crashed their bikes along the Tail of the Dragon where bike parts are nailed to the tree and dangle from branches.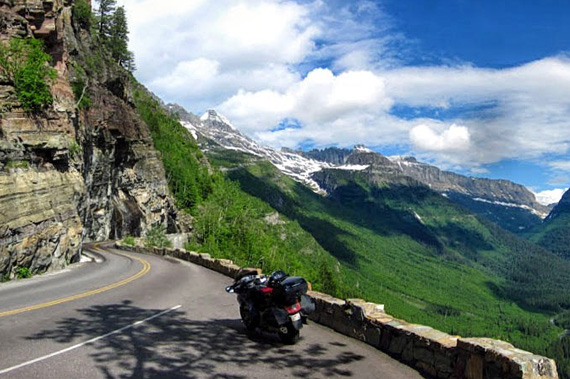 Montana's Going-to-the-Sun Road – Completed in 1932, this spectacular 50 mile stretch of paved two-lane highway bisects Glacier National Park, crossing the Continental Divide at 6,646-foot-high Logan Pass. The road passes through almost every type of terrain in the park, from large glacial lakes and cedar forests in the lower valleys to windswept alpine tundra atop the pass. Scenic viewpoints and pullouts line the road, so riders can stop for extended views and photo opportunities. The road is well worth traveling in either direction, as the view from one side of the road is much different than from the other. In 1983 Going-To-The-Sun Road was included in the National Register of Historic Places and in 1985 was made a National Historic Civil Engineering Landmark.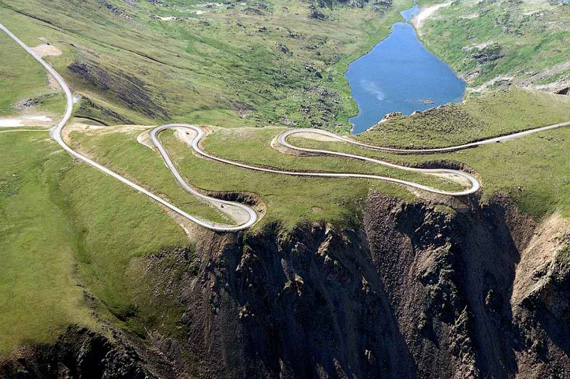 Wyoming's Beartooth Highway – if you're up for a true motorcycling adventure, then you owe it to yourself to explore this byway in Wyoming. Heralded as one of the most scenic drives in the United States, the Beartooth Highway, a National Scenic Byways All-American Road, features breathtaking views of the Absaroka and Beartooth Mountains, and open high alpine plateaus dotted with countless glacial lakes, forested valleys, waterfalls and wildlife. There are very few guardrails, giving you unprecedented vistas—just keep your eyes open for wildlife on the road. This ride is sure to leave you breathless!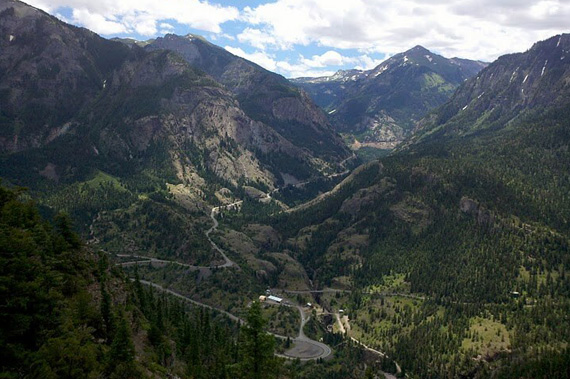 Colorado's San Juan Mountain Skyway – Rather conveniently, San Juan Mountain Skyway is a loop, so you can start anywhere and take it either direction. You'll pass through historic mining towns, national parks and forests and world-class ski resort areas, as the San Juan Mountains are home to many of Colorado's elite group of 14,000 foot mountain peeks. You'll encounter red rock canyons, amazing river valleys, hot springs and majestic mountain peaks in a spot sometimes known as the "Switzerland of America." For an interesting detour, explore Pagosa Springs, home to luxurious naturally occurring hot springs that provides welcome relief to weary riders.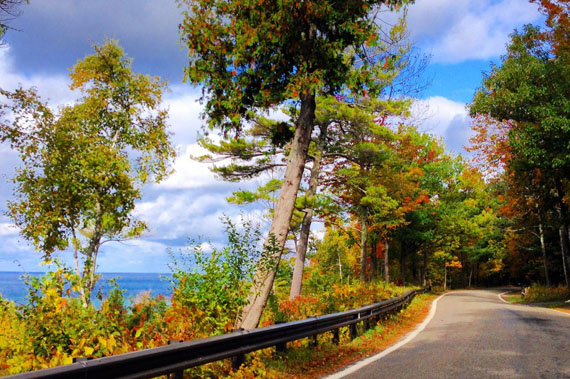 Tunnel of Trees Road – This ride in Michigan is one of the great forest routes in North America. Located about 35 miles south from Mackinac Island, you and your bike will hug the eastern shoreline of Lake Michigan through a dense forest, one side offering glimpses of old summer cabin homes tucked back in the forest, while the other side brings a quick peek or two of the Lake Michigan shoreline. Ride north around the harbor to go through the town of Harbor Springs and up the coast for spectacular views, especially during the fall when leaf color is at its peak.
Pacific Coast Highway – Long touted as one of the best riding roads in the western half of the U.S., the Pacific Coast Highway from Monterey, CA on south offers miles of ocean coastline with minimal development, where 1/6th of the coast is state parkland or national forest. Numerous parks, hiking trails, waterfalls, campgrounds and pristine views are everywhere you look. Lighthouses and elephant seals, wineries, dense forests and sweeping curves offer something for everyone. The Big Sur Coastline is also home to the Santa Lucia Mountain Range, with peaks up to 5000 feet that drop suddenly into the ocean. Microclimates abound, from grassy hillsides, to moist redwood forests to arid and dry in the rain shadowed eastern slope.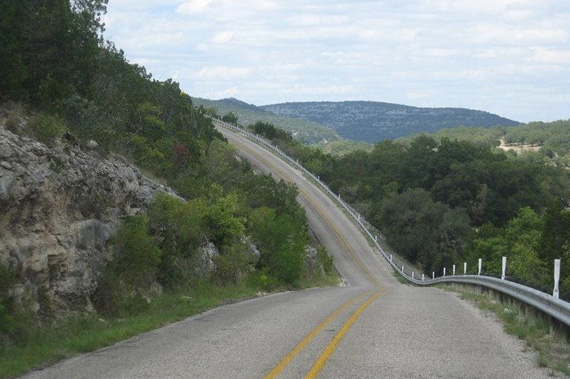 The Three Sisters – Starting in Medina, TX, The Three Sisters offers a 131-mile experience that will change your image of the state of Texas—that is if you think Texas is flat and boring? Breeze along beside clear rivers, maneuver your way along very twisty mountain-like curves with the added attraction of real J.R. Ewing, Texas-style ranches all around you.
Have we whetted your appetite? We hope so! Get out there and start planning your next dream adventure. But remember: it's not the destination – it's the journey! Need a new machine to get you on your way? We can help with that, too! With thousands of motorcycles to pick from, you're bound to find the perfect one for you.