May is Motorcycle Awareness Month

Spring is finally in full swing and around the country, and we motorcyclists are hitting the road in record numbers. But with the sudden increase of motorcycles on the road, it's a good time for us who enjoy life on two wheels to remind all motorists to look out for us.
According to the National Highway Traffic Safety Administration, motorcycles account for just 3% of all registered vehicles in the United States in 2011, yet motorcyclists account for 14% of all traffic fatalities. Looking at accident rates per vehicle mile travelled, NHTSA estimates motorcyclists are 30 times more likely than car passengers to die in a crash and five times more likely to be injured.
A separate report by the Governors Highway Safety Association estimates a total of 5,027 motorcycle fatalities from traffic accidents in 2012, a 9% increase from the year before. Many of those deaths could have been prevented if motorists were more mindful of safety.
That's exactly why May is recognized as National Motorcycle Safety Awareness Month, a time for drivers to be reminded to share the road with motorcycles, and us riders to be reminded to make ourselves as visible as possible to others.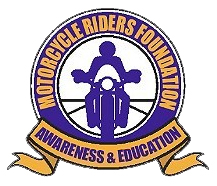 CycleSoup.com wants you to stay safe this riding season. We've teamed up with the Motorcycle Riders Foundation Awareness & Education—the premiere national resource for motorcycling awareness, training and education materials—to create these basic yet essential tips for making yourself visible to other drivers. They may seem like common sense, yet all too often they're forgotten:
For car and truck drivers:
Allow greater following distance behind a motorcycle
Show extra caution in intersections, as that's where most crashes occur
Never try to share a lane with a motorcycle—always give it the full lane width
For motorcyclists:
Avoid riding in poor weather conditions whenever possible
Position your motorcycles on the road in such a way as to avoid a driver's blind spot
Use a combination of turn signals and hand signals for every turn or lane change
For even more tips, techniques and resources on motorcycle awareness, training and education, visit the Motorcycle Riders Foundation Awareness & Education's website. After all, the motorcycle rider your awareness saves may be your own.
Visit the Motorcycle Riders Foundation Awareness & Education's Library