THE GREAT MINNESOTA MOTORCYCLE GET-TOGETHER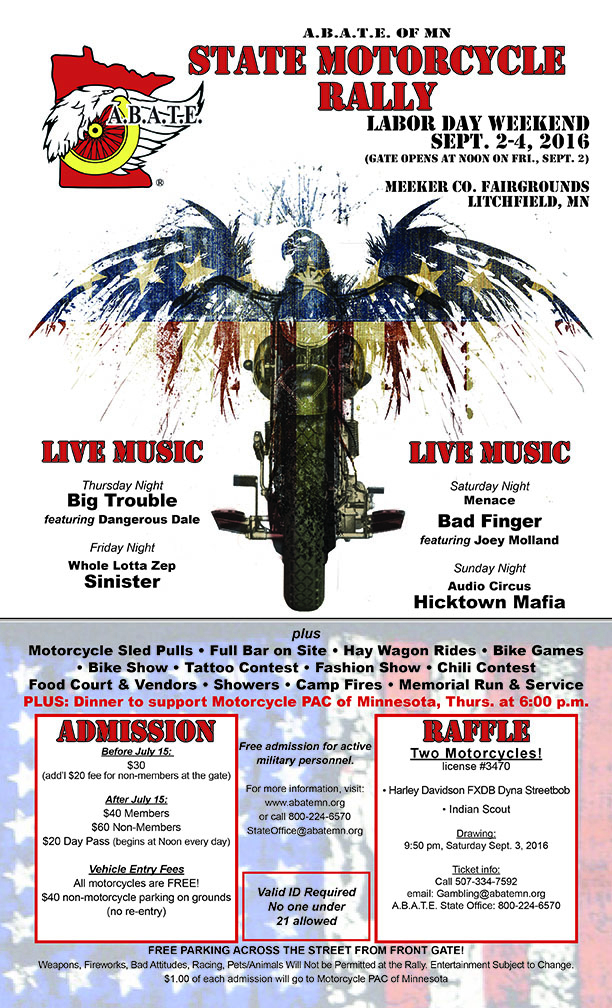 If you think summer motorcycling fun is over just because September will soon be here, think again! The A.B.A.T.E. of Minnesota State Motorcycle Rally is just around the corner, and it's one of the Midwest's best venues for experiencing all the excitement that is a part of the motorcycling life.
Sponsored by American Bikers for Awareness, Training and Education (A.B.A.T.E.) of Minnesota and with a three-day music lineup that culminates with the iconic British band Badfinger featuring Joey Molland, this Labor Day-weekend celebration embraces all things motorcycle. Bike games, memorial runs, bike show, motorcycle sled pulls, and tons of great food and vendors to satisfy your every craving make this event one you don't want to miss.
Events and music lineup include:
Thursday
6:00 pm -- Big Trouble featuring Dangerous Dale
Friday
7:00 pm -- Whole Lotta Zep
10:00 pm -- Sinister
Saturday
10:30 am -- Memorial Service & Blessing of the Bikes
11:30 am -- Tattoo Contest
11:30 am -- Chili Contest
1:00 - 5:00 pm -- Motorcycle Sled Pull Qualifying Runs
4:00 pm -- Fashion Show
7:00 pm -- Menace
9:50 pm -- Rally bike raffle drawing
10:30 pm -- Badfinger featuring Joey Molland
Sunday
11:00 am -- Bike Show
1:30 pm -- Bike Games followed by Motorcycle Sled Pulls
7:00 pm -- Audio Circus
10:00 pm -- Hicktown Mafia
Remember—what happens at the rally stays at the rally, so cut loose and have some fun the Labor Day weekend.